Scuba-Cozumel is the in-house dive operation for Scuba Club Cozumel resort. This PADI 5-Star facility and full service dive center is located inside the hotel premises and includes an air filling station consisting of four compressors and a four-stage filtering system, a full line of rental gear and basic repairs shop, as well as an International Training Center offering specialty courses and certification at all levels. All diving activities and dive trips are coordinated and scheduled here.
Dive Boats
A fleet of seven customized diesel boats are available to safely transport divers to the dive sites. The boats are different sizes and can accommodate from 10 to 20 divers. Equipped with dive platforms and sturdy ladders, marine radios, oxygen and first aid trained crews, they will be ready for boarding every morning at the Club's comfortable pier, right after breakfast. Diving guests are normally assigned to the same boat, crew and u/w guide for the length of their stay. More info...
Guides and PADI Instructors
We have a full time staff of guides and PADI instructors who are eager to share with you their knowledge and the beautiful reefs in their backyard. We offer all the PADI courses and specialties and run daily dive trips & dive activities to all the reefs in the National Underwater Park. More info...
Equipment Rental
A complete rental program is available at the Resort location and a well stocked retail shop is just across the street. More info...
Gear Rinse and Storage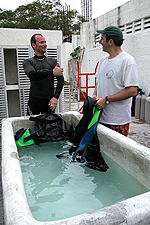 Dive gear lockers and freshwater rinsing tubs are conveniently located just a few steps away from the docks next to the dive center and on the opposite end of the beach next to the pool. It only takes a few minutes to rinse your equipment and put it away, ready for the next dive. Bring your own padlock, as they are not provided.
Unlimited Beach Diving
You'll find great diving right offshore from the resort. The jagged ironshore limestone wall gives refuge to many juvenile reef fish, lobsters, crabs, octopus, and even an occasional seahorse - great for macro photography. Depth is about 15'-25' and access is easy from either of the piers using the specially built stairs, complete with hand rails. A very easy exit is found through a tunnel, that leads to a waist deep saltwater pool and a short staircase up to the deck. Night dives here are fantastic offering unique and memorable creature encounters. More info...
Retail Store
Immediately across the street from the resort you'll find our PADI 5-Star Dive Center retail store .