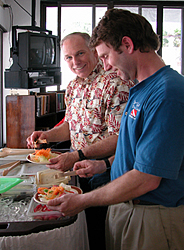 Every day a special lunch is prepared to be ready when divers return from the morning dive trips. They arrive hungry and do not like to wait. The lunch consists of a combination of Mexican, Yucatecan and native Mayan dishes, giving you the opportunity to taste the traditional food from this region.
Old favorites like "Tostadas de Pollo", "Frijoles con Carne" and "Chiles Rellenos" combined with typical Mayan dishes such as "Tamales" and "Pollo Pibil" (chicken wrapped in Banana leaves to give it a special flavor).
"Carne a la Yucateca" will give you a little of everything: beans, quacamole, fried plantains, chips and flank steak based with recado rojo (annatto seasoning).
Of course, if you can't live without a sandwich or hamburger and fries, you can order them from the menu or get a light salad at the salad bar.