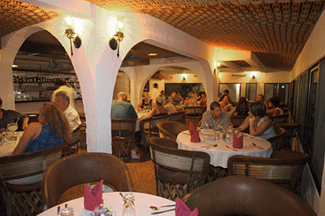 Served from 6:00 p.m. until 10:00 p.m., dinner takes on a more continental flavor.
Seafood comes from the Gulf of Mexico and meat is brought from the northern states of Chihuahua and Coahuila. Poultry and pork, introduced by the Spaniards are now a principal part of the Mayan diet.
Everything in the kitchen is prepared taking advantage of the rich assortment of fresh produce grown in the Yucatan Peninsula and using the same local spices and sauces used since pre-Hispanic times. From Spanish influence we have "Sopa de Lima", the classic Yucatecan chicken soup and "Pollo Valladolid", marinated chicken with bay leaf, oregano and x-catic sweet peppers.
Seafood has a Caribbean flavor in "Pescado a la Veracruzana" (fish baked in a tasty tomato, olive and pepper sauce) and "Camaron al Mojo de Ajo" (Shrimp in garlic lemon butter). You will learn to respect the fiery hot "Chile Habanero" (only grown in this area) and get to know the nutritious "Chaya", a vegetable similar to spinach found in every Cozumel garden.